Find the right training experiences for you. Current camps and clinics are listed below.
1-Day Intensive Camps, Clinics, and Goalie School Clinic Series

The intensive field hockey day camps, clinics, and Goalie Schools are limited to only 6-15 goalies, depending on the event, will provide an individualized approach to skill and game development. Initially, each player will participate in a 1-on-1 skills assessment which will set the pace and focus of his/her unique training program at camp. Training will include skills and techniques essential for success in high school, collegiate and international play, including organization and communication among players. At the end, each player will receive recommendations for future development. To register for all Camps or Clinics, go to our Registration Page.
3 Hour Goalie Clinic

Goalie clinic Sunday October 6th 2013 10pm-1pm.
Take this opportunity to tune up your skills and address your specific needs so you can play your best going into the second half of the season and into the playoffs!  Fee $100.  12 goalkeeper max. Ampro Field House Primos, PA
2 spots are still open

(updated on 10/1/13).




                                                                                                                                                                            

________________________________________________
1 day Intensive Goalkeeper Camp
To Be Announced
__________________________________________________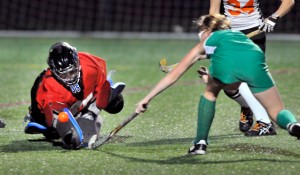 To register, go to our Registration Page.
Goalkeeping 1-on-1 will develop customized clinics and other offerings to fit your needs. Please do not hesitate to contact us if you would like to arrange a training opportunity that is not listed above or to arrange a private clinic for your team or organization.
Directions: 
Click here for directions to Ampro Field House, Primos, PA
For direction to the Lanco Field House click the link,  http://www.lancofieldhouse.com/contact.php
Click here for directions to In The Net Sports Complex, Palmyra, PA